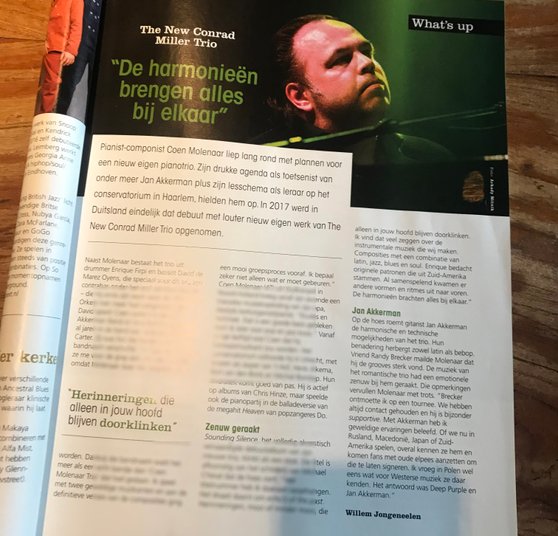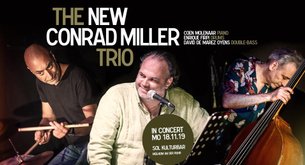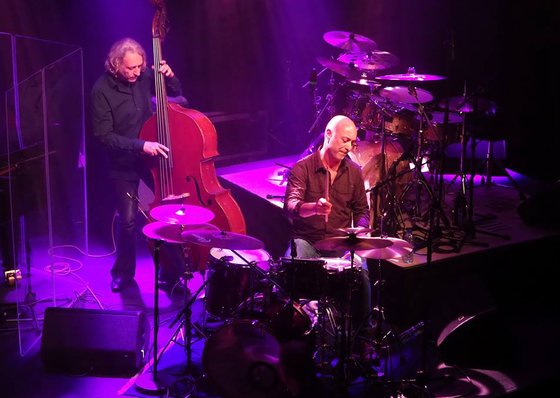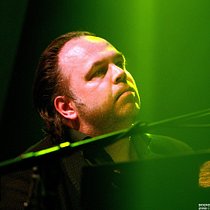 Spring 2019:
- We recorded 14 brand-new songs for our album' Ten Minutes in Florence' which will be released January 2020 (on German label Mochermusic
- Release 'Live @Injazz 2018, May 2019
- Interview Jazzism by Willem Jongeneelen
- Review Bassist (April 2018)
- Just announced: We will play Sol Kulturbar (18th of July ) Müllheim a/d Ruhr, Germany
- We will support Bob James @De Boerderij Zoetermeer (3-5-18)
Early 2018 pianist Coen Molenaar released the CD and LP "Sounding Silence '. Together with Enrique Firpi (drums) and David de Marez Oyens (double-bass) they are ' The New Conrad Miller Trio'.

The album has been received very well internationally which resulted in nice concerts throughout Germany, Poland and Benelux.

Reviews and interviews in :
Jazzism (NL)

Stern (DE)

Musicmaker (NL)

Jazzthing

Jazzine (NL)

Pianowereld (NL)

Jazzflits (NL)

De Bassist (NL)

Heaven Magazine (NL)

Gooi & Eemlander (NL)

Jazz de Ville

Jazzethik (DE)

Jazzpodium (DE)

Soultrain online (DE)

Like Hifi (DE)

Moors Magazine (NL)

KLM inflight
Concerts :
2019
Febr 19th, It's Time for Jazz , Zutphen
April 3rd, 'T Oude Pothuys , Utrecht
April 20th, Sjruur, Maaseik, België
May 3rd, Jazzpoint Wangen, Germany
May 10th, Jazzkeller Dinkelsbuhl, Germany
May 17th, Live Music Events Amstelveen
July 18th- SOL Kulturbar , Müllheim a/d Ruhr, Germany - Summer Special
Nov 17th - TBA, Friejam, Leeuwarden
Nov 18th - SOL Kulturbar , Müllheim a/d Ruhr, Germany
2018
Feb. 8th, live @RTW FM 105.8. Nederbeat with Martin Reitsma (Cineast John Meijer will make a TV documentary )
Feb. 10th, Co live (interview 1900-2100) / NPO2 radio
Feb. 17th, IEP, Bergen (NH)
Feb. 18th Speakers, Den Haag
Feb. 24th , Splendor, Amsterdam
Mar. 4th, Co live (NPO2 radio)
Nick Vollebgregts, Laren
Mar. 8th, De Stier, Eibergen
Mar. 15th, Miles, Amersfoort
Mar. 16th , De Tor, Enschede
Mar. 18th, Rue de la Gare, Emmen
Poland 2018 Tour:
20.03 -Nietota, Wroclaw (Breslau)
21.03 -Poznan, Blue Note
22.03 -Lokal, Lodz
23.03 - Kameleon Jazz Klub, Kedzierzyn - Kozle
24.03 - Harris Piano Jazz Bar, Krakow
25.03 - Muzeum Jazz Club, Jaworzno
Apr. 8th , Buckshot, Groningen
Apr 13th , Kleinkunstdiele, Bucken, Germany
May 3rd, Boerderij Zoetermeer (support act of Bob James
May 4th, Tpodium, Amstelveen
June 28th, InJazz 2018, Rotterdam
Aug 24th, Jazzin' De Gracht, Den Haag
Aug 26th, Biggg Smallbands Festival (1400-17.30) Sijthof Cultuur Café, Leiden
Sept 27th Regentenkamer , Den Haag
Oct 30th, TBA, Amstelveen (private)
Nov 11th, Theatre De Lievekamp , Oss
"Vigorously swinging… Here jazz gets ventilated!" (Jochen Siemens in STERN 3/2018, 4/5 stars)
"Molenaar's touch on the keys,always leaves space for the elegant bass lines and the dancing cymbals of his companions.
But finally it's the latin tinted showpieces such as "Bossa Del Calvito" or "No Dancing" (the song name is a good joke) that distinguish the band from the masses of piano trios."
(Rolf Thomas in JAZZTHING February/March 2018)
"High-torque and self-confident, but never over-produced and equipped with tremendous jazz grip - a blessing" (Gregor Poschoreck on SOULTRAINONLINE, 4/5 stars)
"A very vivid mix of styles - inspiring and pretty relaxing jazz" (Christian Kautz on LIKEHIFI, 4/5 stars)